In today's music products landscape, there's no shortage of available accessories for the home recording enthusiast. However, there still exists a technology and price gap between consumer-grade recording products and professional-grade studio equipment. But, with the launch of the new ProStudio 4825F Patchbay from Bittree, that gap is looking narrower than ever before.
"For decades, we have manufactured the world's best, most reliable patchbays that were out of financial reach of most of the MI market," said Ari Baron, general manager at Bittree. "We wanted to offer our patching solutions at a more affordable price, without sacrificing the quality and precision of our legendary bays. The most efficient way to do this was to offer the same internal components as our 969 Front Programmable Patchbay, at a lighter density. The PS4825F is essentially half of a 96-point traditional TT patchbay."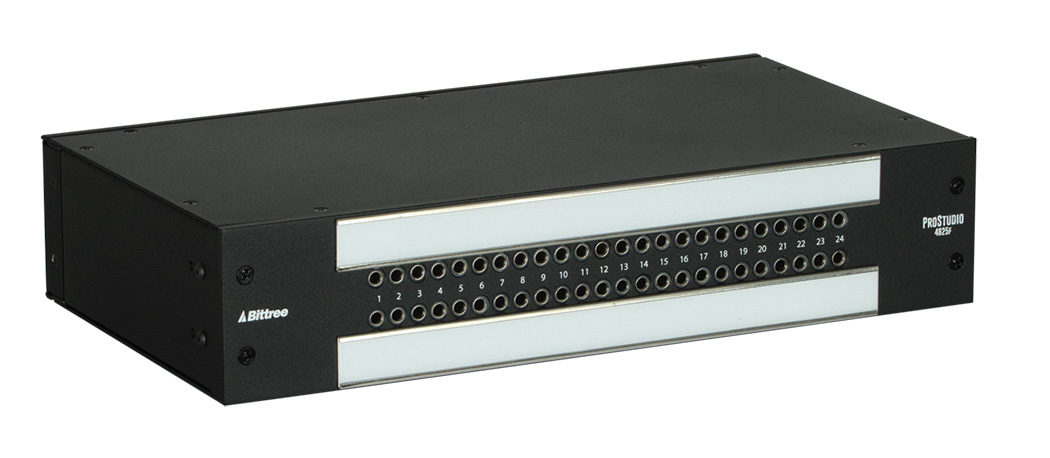 The PS4825F is the first entry in Bittree's new ProStudio line of audio patchbays. It is intended for desktop applications in temporary or fixed installations, and its small form factor (12.5″x7″x2.5″ at 5lbs.) allows it to fit most home studio setups. The PS4825F is designed to fit portable 500 Series racks, as well as to fit comfortably underneath a desktop monitor. It also offers the foundation a hobbyist would need to create a professional-quality recording studio in his or her home.
"The PS4825F mates perfectly with any professional equipment with DB-25 connectors, or DB-25-to-XLR or TRS connectors," said Baron. "Most DAWs (Digital Audio Workstations) have DB-25 inputs and outputs, making connectivity a cinch. A great microphone, an XLR cable, a microphone preamp, a compressor, EQ and some sound treatment to tune your room is all that's needed to start recording and mixing music in a professional-sounding way. The PS4825F ties it all together.

"Think of our patchbay as the central nervous system of the studio," he added. "The PS4825F integrates, connects and coordinates all sonic activity within its space. Without it, you move around the studio like a jellyfish."
A patchbay can add tremendous flexibility to any do-it-yourself recording setup by streamlining connections and allowing for easier experimentation with signal flow. Adding a patchbay also makes studio hardware much more accessible for on-the-fly adjustments to connections and patching. "You'll never have to climb under or behind your desk again," said Baron. "Our ProStudio patchbays provide engineers quick accessibility to any of their equipment in their studio and workflow. They can quickly add compressors and EQs to the tracking signal chain, or rapidly change a studio from tracking, to mixing, to mastering. They can patch around any problems in their signal flow to keep the session going, then troubleshoot the problem later without disrupting the workflow. All studio equipment inputs and outputs become centrally located."

What sets the PS4825F apart from other patchbays is the professional quality of its audio jacks and connections, which are more suited for long-term use and offer more protection for sensitive system components than those found on most consumer-grade patchbays.
"Our TT audio jacks are full-frame jacks, and offer more durability and stability than plastic molded jacks and casted jacks," explained Baron. "Our full-frame jack eliminates 'Memory' that can physically alter the springs and other internal jack components on a permanent basis. Our jacks are built to military specifications and must function no matter how harsh the conditions. The result is a less than 0.0001% failure rate.
"This meticulous attention to quality extends to the PS4825F's connectors and components," he added. "Professional-grade shunts with gold-plated spring contacts resist surface corrosion and maintain their connection for years of trouble-free service. Solid-gold switching contacts are welded and electrically bonded to the spring leaves, providing superior durability and higher electrical current ratings than competing solutions' pressed-on foil approach. XL designation strips provide ample space for three lines of print, enabling easy labelling and quick identification."
Since Bittree anticipates that the PS4825F will be a game-changer in the home studio market, the company plans to be aggressive in its promotion of the product. Bittree also plans to offer incentives to new dealers in an effort to expand its dealer network. "We are currently offering new dealers free shipping on six patchbays or more, and a baker's dozen with free shipping," said Baron. "We have a ton of marketing material, and are very interested in partnering with our dealers and participating in co-op marketing opportunities online and in print. Drop shipping is available at no extra charge."
Bittree has also been ramping up its social media presence over the past year, and hopes its growing online following will lead to more public awareness of the PS4825F and the greater ProStudio line. "Our social media has been working overtime," said Baron. "We started our Facebook page and Instagram page in November, and both are on the verge of passing 20,000 followers. We love giving our dealers shout-outs and running fun promotions to generate sales for them."
"We also have dedicated customer service specialists assigned to each dealer, who are available for any questions that may come up before, during or after the sale," he concluded. "We love to talk with our dealers on a regular basis."
The PS4825F carries an MSRP of $625 and is available now. The ProStudio line comes with a five-year, front-to-back warranty. Bittree plans to add a one-rack-unit, internally programmable patchbay to the ProStudio line in the future. For more information on the ProStudio line, go to bittree.com.
http://msretailer.com/bittrees-prostudio-4825f-patchbay/